Heron Hill Primary School Cumbria: Passionate pollinators!
As a school we are passionate about bees and pollinators! We have a well-established oversubscribed 'bee team' of children. They manage our on-site apiary, working to help children encourage, educate and enthuse other children about pollinators across our school and the wider community!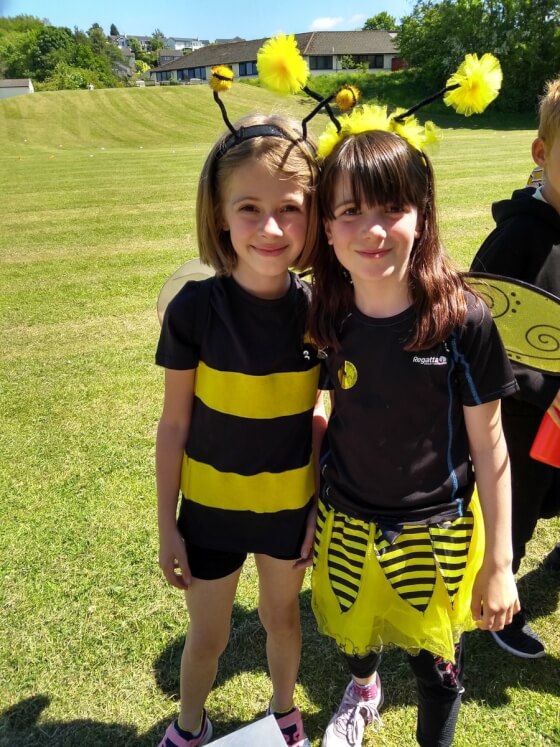 Our school boasts 3 teams of beekeeping children who inspect and manage our 6 hives. The emphasis on 'teamwork' is really important with our junior BBKA certified children supporting and mentoring younger children. The 'bee team' fosters community links and mimics the interconnected world that they learn about with bees! Our bee teams are encouraged to work together and in collaboration with our gardening club. Together, planting over 2000 native trees, establishing 'no mow' zones and a wild flower meadow. Last month the bee teams made 2 'pollinator palaces' using recycled bee hives. Our woodland and fields boasts 10 'bug hotels' and a hedgehog habitat under our bee shed!
In preparation for our annual celebration of school bee day, the local BKA worked alongside our children to transform yet more of our 6-acre school grounds into a pollinator friendly environment. 'The Big Dig', planting a wildflower meadow allowed young and old to come together and sow the seeds of the next generation of beekeepers.
The bee keeping day was an opportunity for the children and staff to share the knowledge gained over the last 3 years with the school and community. Pollinator-themed activities such as creating seed bombs, solitary bee houses and identifying pollen ensued with much delight and lots of ideas to take home.
As well as the amazing work in our school, our project attracts much attention from local secondary schools, where students come to learn about bees as part of the Duke of Edinburgh award.
More detail can be found here: https://www.heronhill.cumbria.sch.uk/bee-blog
We were creating a brand new wildflower meadow alongside our friends and neighbours from the local community and the Kendal Branch of the British Beekeeping Association. It was lovely to see young and old working alongside each other with a common purpose. We all recognise the need for a greater number of wildflower areas offering a greater variety of forage for our very important pollinators. This was one of many actions we have taken as a school to raise awareness and help pollinators.
We also run an afterschool Beekeeping club where we have 3 teams of children aged 8 – 11 who actively look after 6 colonies of honeybees based in our apiary in the school grounds. Furthermore these children are responsible for educating their peers and families and community neighbours about all the good work that honey bees do to help us and what more importantly we can do to help them.
If you'd like us to use feature your green action please tell us
What you did, or intend to do, and when?

Which theme, or themes, it delivers against?

Who and how many people it involves?

That you are happy for us to store, and potentially use, the information.
Please send details, including any photographs and logos we can use, to [email protected]